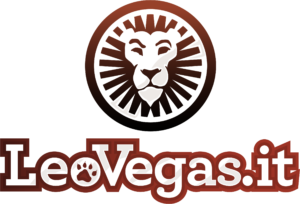 In questa recensione esprimeremo le nostre opinioni sull'offerta di casinò online e operatore di scommesse sportive LeoVegas, una società svedese fondata nel 2012 che nel mercato italiano è entrata nel 2017 con l'acquisizione di Winga come LeoVegas.it e anche attraverso il canale televisivo LeoVegas TV. Opera con la concessione AAMS n. 15011.
Entrando sul sito di LeoVegas ci sentiamo subito a nostro agio, la prima impressione è quella di un servizio ben curato, attento a ogni aspetto. E a quanto pare non è solo una impressione, sembra che anche i più grandi esperti del settore condividano la nostra opinione dato che LeoVegas è vincitore di alcuni importanti premi internazionali, anche nel campo della tecnologia mobile.
Ma passiamo ai dettagli. In primo luogo vedremo quali giochi e quali promozioni troviamo nell'offerta di questo operatore e di seguito esprimeremo la nostra opinione sui servizi legati alla gestione del cliente.
MIGLIORI CASINO ONLINE – LeoVegas

Categoria
Descrizione del bonus
Nostro link promozionale
LeoVegas Bonus di Benvenuto
150% fino a 600 € + 10 Free Spins
Ottieni il bonus
LeoVegas per i nuovi iscritti
100% fino a 50€ sul secondo deposito
&
100% fino a 100€ sul terzo
Ottieni il bonus
LeoVegas Scommesse
Bonus del 150% fino a 100 €
Ottieni il bonus
LeoVegas – offerta promozioni per i nuovi iscritti
L'offerta promozionale di LeoVegas è particolarmente vantaggiosa. Purtroppo non è possibile descriverla qui per intera in un modo dettagliato ma se vorrai scoprire di più su uno qualsiasi dei bonus, sappi che sul sito di LeoVegas troverai una descrizione accurata e completa di ognuno di essi. Intanto vogliamo dare alle promozioni di LeoVegas almeno una veloce occhiata in modo da farti rendere conto di quanto siano convenienti. Ti vogliamo ricordare anche del fatto che per approfittare di qualsiasi promozione LeoVegas è necessario, durante la fase della registrazione, dare all'operatore il consenso al trattamento dei dati personali!
Bonus per i nuovi iscritti

All'offerta riguardo ai bonus di benvenuto conviene dedicare un punto a parte perché su LeoVegas ne troviamo addirittura cinque. Ecco delle brevi descrizioni di ognuno di essi.
Bonus Benvenuto Casinò (150% fino a 600 euro + 10 free spins / 100% fino a 1000 euro + 10 free spins)
A tutti i suoi nuovi giocatori che effettueranno un primo deposito di minimo 10 euro LeoVegas regalerà 10 free spins da utilizzare sulle slot di colore verde e in più un bonus del 150% fino a 600 euro da spendere sulle Roulette TV, le slot blu oppure altri giochi del casinò.
Come fare per approfittare dell'offerta? Apri gratuitamente un nuovo conto di gioco su LeoVegas, effettua il tuo primo deposito di almeno 10 euro e scegli la promozione Casinò. I free spins saranno disponibili subito al primo accesso e rimarranno validi per 7 giorni a partire da quello in cui hai effettuato la ricarica.
Per quanto riguarda l'altra parte del bonus, abbiamo a disposizione due scelte: Standard e Ricco.
L'opzione Standard consiste in un game bonus del 150% sul primo deposito fino a un massimo di 600 euro. Il primo deposito deve ammontare a minimo 10 euro. Il bonus verrà accreditato entro 72 ore dal momento del versamento. Il bonus Ricco invece rappresenterà il 100% del primo deposito ma potrà arrivare anche a 1000 euro. Qui però il valore  della prima ricarica deve essere di minimo 201 euro. Il bonus è valido sui primi 3 depositi effettuati nei primi 7 giorni a partire dal primo deposito e viene erogato il giorno successivo ad ogni ricarica. Per accettare il bonus e soddisfare i requisiti di puntata si ha a disposizione 7 giorni di tempo.
Bonus Nuovi Iscritti Casinò (fino a 150 euro)

Questa è un'altra promozione per i nuovi giocatori del casinò. Si tratta di un game bonus del 100% fino a 50 euro sul secondo e fino a 100 euro sul terzo deposito. Per approfittare dell'offerta bisogna semplicemente effettuare la seconda ricarica di un valore minimo di 10 euro inserendo il codice SECONDO e la terza, sempre con lo stesso valore minimo, inserendo il codice TERZO. I codici vanno inseriti nell'apposito modulo di ricarica sulla pagina "Ricarica conto". I bonus ti verranno accreditati entro 5 minuti dal momento in cui il versamento sarà andato a buon fine. Li potrai utilizzare giocando in diretta TV con Roulette Show oppure con le slot blu senza jackpot disponibili anche da mobile.
Bonus Benvenuto Scommesse (fino a 250 euro)

LeoVegas si dimostra generoso non solo con i giocatori da casinò; infatti, ha preparato un'interessante offerta promozionale anche per i fan delle scommesse sportive. Registrandoti su LeoVegas Scommesse come nuovo giocatore potrai ottenere fino a 250 euro gratis. Tutto il bonus è suddiviso in quattro parti: un bonus del 100% fino a 100 euro sul primo deposito e tre bonus del 50% fino a 50 euro per tre mesi sulle tue scommesse non vincenti.
Il tuo primo deposito dovrà ammontare a minimo 10 euro. Dal momento in cui hai effettuato il versamento, hai 90 giorni per sbloccare l'intero importo del bonus. Ricordati che il bonus non è prelevabile e che in quel periodo di tempo non potrai partecipare alle altre promozioni della sezione scommesse sportive.
Bonus Benvenuto Bingo (fino a 100 cartelle gratis)
LeoVegas farà contenti anche i giocatori di Bingo. I nuovi clienti che effettueranno un primo deposito che ammonterà a minimo 10 euro riceveranno 100 cartelle gratis del valore complessivo di 10 euro. Il bonus Bingo sarà valido per 30 giorni dal momento del deposito.
Bonus Benvenuto Lotto (10 euro)
Su LeoVegas ci aspetta anche una bella promozione di Benvenuto nella sezione Lotto. I nuovi iscritti potranno ottenere un bonus di 10 euro da spendere su Lotto, 10 e Lotto e Gratta&Vinci. Basta effettuare la prima ricarica di almeno 10 euro e scegliere la promozione di benvenuto Lotto. Il bonus avrà una validità di 30 giorni dal momento del deposito.

Oltre ai bonus di benvenuto, vorremmo raccontarvi di alcune promozioni che riguardano non solo i nuovi iscritti. È stata dura sceglierne solo qualcuna, ma alla fine siamo riusciti a decidere quali a nostra opinione siano quelle più vantaggiose.
Invita un amico Casinò
Su LeoVegas potrai guadagnare anche invitando a giocare i tuoi amici. Per ogni amico che aprirà un conto di gioco tramite la tua raccomandazione ed entro 7 giorni dalla registrazione effettuerà un deposito di minimo 10 euro potrai ricevere fino a 30 euro di bonus (il 100% del valore della sua prima ricarica). Potrai invitare massimo tre amici. Come fare? Direttamente dal client di gioco cliccando su "Invita un amico".
E cosa ne viene a lui? Oltre alla possibilità di ottenere il Bonus di benvenuto Casinò LeoVegas gli regalerà anche 10 euro extra. Per partecipare alla  promozione è necessario che il tuo amico inserisca durante la registrazione il tuo codice amico.
Bonus Compleanno Casinò
LeoVegas renderà il tuo giorno di compleanno ancora più piacevole, regalandoti fino a 100 euro extra. Se durante il giorno del tuo compleanno effettui un deposito di almeno 10 euro, riceverai un bonus del 100% del suo valore fino a un massimo di 100 euro. Non è necessario inserire alcun codice. Il bonus verrà erogato praticamente subito e lo potrai utilizzare per 7 giorni successivi giocando con le slot blu o ai giochi TV di LeoVegas..
VIP Club Casinò
LeoVegas vuole premiare anche i giocatori più fedeli. Lo fa attraverso il suo programma Leo VIP Club, grazie al quale è possibile approfittare di diversi vantaggi, come per esempio bonus assicurazione sulle giocate non vincenti oppure bonus sul primo deposito della settimana. Cosa bisogna fare per entrare nel programma VIP? Praticamente niente. Dopo aver aperto il conto di gioco e ricevuto il bonus di benvenuto, il giocatore entra a far parte del VIP Club in automatico. Successivamente potrai scegliere tu stesso quale piano faccia più al caso tuo.

In questa parte della recensione di LeoVegas valuteremo l'offerta dell'operatore per quanto riguarda i giochi a disposizione. Accedendo alla home page di LeoVegas.it si nota subito che il sito è suddiviso in sette categorie: Roulette TV, Casinò, Slot, Casinò Live, Scommesse, Bingo e Lotterie.
Roulette TV
La Roulette TV è un'opzione davvero insolita, che risalta sul mercato dei giochi d'azzardo. LeoVegas dà al cliente la possibilità di partecipare al gioco in diretta TV o in streaming sul suo sito. Si tratta di una roulette live basata su una rivisitazione della classica roulette francese che viene trasmessa da uno studio televisivo con un vero tavolo da gioco e un croupier in carne e ossa. È possibile giocare anche dai dispositivi mobili.
Casinò
In questa sezione troveremo una vasta gamma dei più amati giochi di casinò: roulette (ben 7 variazioni di cui una con jackpot), blackjack, videopoker, giochi di carte (tra cui baccarat e casinò hold'em) e giochi arcade
Slot
Le slot machine non sono state incluse nella sezione precedente perché LeoVegas gli dedica una pagina a parte. Abbiamo a disposizione decine di opzioni, tra le "macchinette" più amate. Per menzionarne alcune ci sono i grandi classici come Starburst, Gonzo's Quest, Hot Gems oppure le slot DC Comics con Batman, Superman, Green Lantern e Justice League.
Per facilitare la scelta della slot da giocare, il team dell'operatore le ha suddivise secondo le seguenti categorie: Novità, Classiche, In primo piano, Le più giocate, Jackpot, Avventura e Scelte per te. Quindi puoi decidere subito se andare sul sicuro oppure provare qualche novità senza perdere troppo tempo per le ricerche.
Live Casinò
Su LeoVegas ci aspetta anche il – sempre più in voga – Live Casinò. L'offerta di questa modalità è molto interessante. Possiamo scegliere tra ben 5 tavoli da roulette, 4 da blackjack e tre altri giochi: Grand Baccarat, Mini Baccarat e Casino Hold'em.
Scommesse sportive
Oltre alle tipiche attività da casinò, nell'offerta di LeoVegas troviamo anche le scommesse sportive. Anche qui l'operatore non delude, la scelta di sport ed eventi su cui scommettere è davvero impressionante. Abbiamo a disposizione naturalmente il calcio con numerosi campionati sia italiani (Serie A, Serie B, Serie C) che stranieri, tra cui quelli più famosi come la Premier League o la Bundesliga ma anche campionati minori, come per esempio quello egiziano, finlandese o australiano, per menzionarne solo alcuni. Ovviamente non poteva mancare la Champions League e l'Europa League. Per quanto riguarda altri sport, su LeoVegas troviamo per esempio tennis, basket, pallavolo, baseball e molti altri. In tutto sono oltre 20 discipline e migliaia di eventi. E anche le quote sono molto convenienti.
Bingo
LeoVegas cerca di consolare quelli che dopo il Natale sentono già la mancanza della tombola con la versione virtuale del bingo. Da scegliere ci sono quattro sale di cui tre con jackpot. Se non conosci le regole per cominciare potrai scegliere la modalità "For Fun" e imparare come funziona giocando a soldi finti. È possibile giocare anche da mobile.
Lotterie
Infine, LeoVegas ha preparato anche un'offerta per coloro che amano le lotterie ma non sempre hanno voglia di recarsi in tabaccheria solo per acquistare un biglietto. Ora potranno farlo stando comodamente sul divano di casa; su LeoVegas, infatti, sono disponibili tre giochi Lotto: Lotto, 10 e Lotto e Gratta e Vinci.
Come abbiamo accennato all'inizio di questa recensione, LeoVegas è vincitore di alcuni importanti riconoscimenti internazionali nel campo dei giochi d'azzardo tra cui:
Mobile Operator of the Year EGR Nordic Awards 2016
Casino Operator of the Year EGR Nordic Awards 2017
Online Casino Operator of the Year International Gaming Awards 2017
È quindi evidente che secondo gli esperti del settore si tratti di un operatore che merita l'attenzione dei giocatori. In questa parte della recensione esprimeremo le nostre opinioni sui servizi offerti da LeoVegas. Parleremo dell'assistenza clienti, dei metodi di pagamento disponibili e dell'applicazione mobile.
StarCasino è anche molto apprezzato, controlla l'offerta qui.
LeoVegas – modalita di pagemento
Per quanto riguarda i metodi di ricarica su LeoVegas, sono disponibili quattro opzioni: carta di credito (Visa, Visa Electron, Mastercard, Postepay), bonifico bancario, Skrill e PayPal. Le operazioni effettuate tramite carta di credito, Skrill e PayPal avvengono in modalità immediata, senza costi aggiuntivi. Per quanto riguarda il bonifico bancario, questi due aspetti sono soggetti al regolamento della banca del giocatore.L'importo minimo di ogni deposito è di 10 euro.
Il prelievo può essere richiesto tramite PayPal (esecuzione immediata, costo 2% fino a un massimo di 0,85 euro), Skrill (esecuzione immediata e gratuita) e bonifico bancario (esecuzione entro 7 giorni lavorativi dalla richiesta, costo 0,60 euro).
Attualmente non esiste un'applicazione mobile LeoVegas disponibile per il mercato italiano, ma questo fatto non costituisce un problema in quanto il sito si adatta agli schermi dei dispositivi piccoli e funziona benissimo sia sui sistemi Android che iOS. Tant'è vero che nel 2016 l'operatore è stato premiato con il titolo del Mobile Operator of the Year EGR Nordic Awards 2016.
Qual è il nostro verdetto finale su LeoVegas? Decisamente positivo. Avendo analizzato a fondo l'offerta di giochi e scommesse nonché i servizi legati al comfort del giocatore, possiamo consigliarvi di aprirci un conto di gioco con la coscienza pulita. Prima di tutto ci troverete un sacco di giochi, partendo da quelli classici da casinò, una grande varietà di slot machine, ma anche il gioco del Lotto, bingo e infine il sempre più amato Casinò Live, per non parlare della possibilità di giocare in diretta TV su LeoVegas TV, una vera chicca. L'offerta dedicata alle scommesse sportive non è da meno, abbiamo a disposizione decine di discipline e migliaia di eventi sportivi con quote vantaggiose. Anche l'offerta promozionale di LeoVegas è davvero impressionante. In più, un'ottima sezione di servizio clienti, sito chiaro, completo e piacevole, facilmente navigabile anche dai dispositivi mobili. A nostra opinione tutto perfetto.
LeoVegas servizio clienti
Se nell'uso dei servizi di LeoVegas riscontrerai qualsiasi tipo di problema, ci saranno tre modi per risolverlo. Prima di tutto è presente la sezione FAQ, ovvero delle domande più frequenti. C'è da dire che il team di LeoVegas si è dato da fare anche in questo campo, perché si tratta di una guida molto elaborata. Ci troveremo risposte a oltre 40 domanda su argomenti come apertura, gestione e chiusura del profilo, ricariche e prelievi. Inoltre, ѐ disponibile una sezione a parte dedicata alle regole dei giochi.
Se tuttavia non saremo riusciti a risolvere il nostro problema, potremo contattare il servizio clienti tramite l'apposito modulo oppure telefonicamente al numero 02 00620264 tutti i giorni dalle 10:00 alle 23:00.