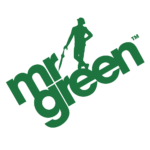 Nella recensione sottostante descriveremo in modo dettagliato l'offerta di MrGreen Casinò ed esprimeremo la nostra opinione su questo operatore.
Mr Green è un casinò online lanciato nel 2007 inizialmente sul mercato svedese. Oggi è famoso tra i giocatori in tutta Europa. È addirittura il casinò più premiato al mondo. In Italia opera dal 2015 con la concessione AAMS n°15024.
Nella sua offerta troveremo tipici giochi da casinò come slot machines, poker, baccarat, blackjack, roulette, quest'ultimi due disponibili anche in versione live casinò.
Per quanto riguarda le scommesse sportive, almeno per il momento esse non sono incluse nell'offerta per il mercato italiano.
MIGLIORI CASINO ONLINE – MrGreen

Categoria
Descrizione del bonus
Nostro link promozionale
MrGreen Bonus di Benvenuto
Fino a 300 € di bonus sulle prime 3 ricariche
Ottieni il bonus
Starburst
50 giri senza deposito
Ottieni il bonus
Nella prima parte della recensione vi presenteremo l'offerta di Mr Green suddividendola in due parti: l'offerta di bonus e promozioni e l'offerta di giochi. Successivamente ci concentreremo sulle opinioni riguardo all'operatore ponendo particolare attenzione a questioni come servizio clienti, metodi di pagamento e applicazione mobile.
MrGreen promozioni per nuovi giocatori
Mr Green tenta di invogliare i giocatori ad aprire il conto gioco sul proprio sito e ad entrare a far parte dei suoi clienti proponendo due promozioni di benvenuto: Pacchetto di benvenuto e 50 free spin su Starburst senza deposito.
Pacchetto di benvenuto
Bonus di benvenuto al casinò di Mr GREEN

Deposito
Descrizione del bonus
Nostro link promozionale
1°deposito:
100% fino a 100€ di bonus.
Ottieni il bonus
2°deposito:
50% fino a 100€ di bonus.
Ottieni il bonus
3°deposito:
100% fino a 100€ di bonus.
Ottieni il bonus
In cosa consiste il misterioso pacchetto di benvenuto? Si tratta di fino a 300 euro di bonus sui primi tre versamenti. Ora ti spiegheremo come funziona. Se sei un nuovo giocatore di Mr Green, effettuando il tuo primo deposito potrai ottenere il 100% del suo importo fino un massimo di 100 euro. Quindi se depositi 50 euro il tuo bonus ammonterà alla stessa cifra. Effettuando il secondo deposito avrai possibilità di ricevere il 50% dell'importo del deposito e infine il bonus sul terzo versamento ammonterà di nuovo al 100% del suo importo.
La cifra minima che devi depositare per poter usufruire della promozione è 10 euro per ogni versamento ma ovviamente per sfruttare il bonus al massimo conviene depositare prima 100, poi 200 e poi di nuovo 100 euro.
Il bonus sul primo deposito dovrà essere richiesto entro 15 giorni dal momento della registrazione. Gli altri due bonus diventeranno disponibili solo dopo che avrai esaurito (oppure convertito in bonus reale) il tuo primo bonus. Li potrai richiedere entro 15 giorni dal momento in cui sono diventati disponibili. Dopo la loro attivazione saranno validi per 30 giorni.
I soldi provenienti dal bonus non sono prelevabili. Per essere convertito in denaro reale il bonus deve essere prima giocato 34 volte sulle slot. Le vincite provenienti dal bonus dovranno essere rigiocate almeno una volta.
Per quanto riguarda i termini e condizioni del Pacchetto di benvenuto di Mr Green c'è un punto importante di cui devi ricordarti per non perdere il diritto agli extra: non devi assolutamente effettuare prelievi prima di aver raggiunto i requisiti di puntata! Altrimenti il bonus (e le vincite da esso provenienti) verrà automaticamente annullato!
MrGreen – 50 free spin su Starburst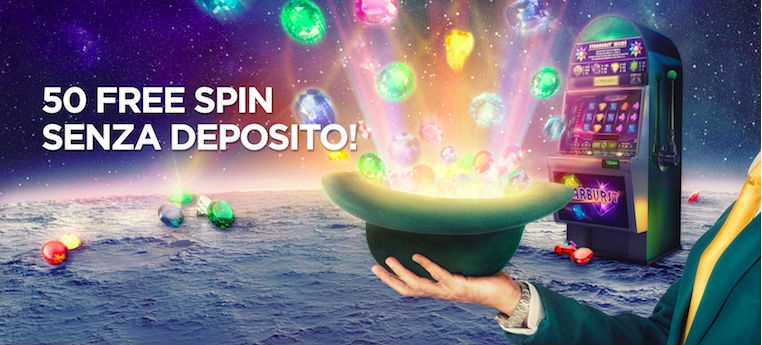 Se sei un nuovo giocatore che ancora non ha verificato la propria identità dopo aver effettuato la registrazione Mr Green ti regalerà 50 free spin senza deposito sulla famosissima slot Starburst a una condizione semplicissima: dovrai soltanto inviare una copia fronte/retro di un tuo documento d'identità e del tuo codice fiscale all'indirizzo servizioclienti@mrgreen.com. Ricordati che il documento d'identità deve essere lo stesso che hai utilizzato durante la registrazione e che le fotocopie dovranno essere inviate entro 30 giorni dall'apertura del tuo conto di gioco. Visto che se ti ci registri evidentemente avrai intenzione di far uso dei servizi di Mi Green, tanto vale ricordarsi di quest'ultimo punto e inviare il documento in tempo per non perdere il bonus. I free spin verranno accreditati sul tuo conto di gioco in automatico, appena il documento inviato verrà verificato. Il fun bonus da loro derivante per essere convertito in real bonus dovrà essere giocato 34 volte entro 30 giorni dall'accredito. Anche in questo caso, come per la promozione Pacchetto di benvenuto, le vincite provenienti dal bonus dovranno essere rigiocate almeno una volta.
Goleada di Free Spin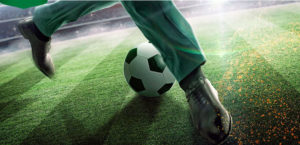 Abbiamo detto che nell'offerta di Mr Green non troveremo le scommesse sportive, ma tuttavia l'operatore non lascia a mani vuote gli appassionati dello sport. Anzi! Tra le promozioni di Mr Green ce n'è una che sicuramente farà felici gli amanti del calcio, una "goleada" di free spin.
Come funziona? Ogni sabato o martedì di campionato versa sul tuo conto di gioco un deposito di minimo 20 euro, poi mettiti sul divano e rilassati davanti alle partite di serie A incrociando le dita perché le squadre segnino più gol possibile. Non solo perché la tua squadra del cuore possa scalare la classifica del campionato, ma anche perché Mr Green ti accrediterà un numero di free spin pari al numero di gol segnati in tutte le partite durante la giornata di serie A in cui hai effettuato il deposito.
I free spin verranno accreditati sul tuo conto di gioco entro 24 ore dalla fine della giornata del campionato. Saranno da utilizzare sulla slot Ulisse entro 7 giorni dall'accredito. Le vincite derivanti dal bonus dovranno essere rigiocate almeno una volta.
Martedì&Giovedì Green – Gennaio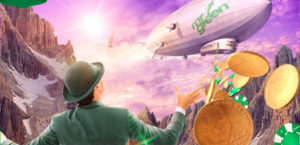 Nell'offerta di Mr Green troviamo anche una promozione dedicata al mese di gennaio. Effettuando un versamento di minimo 20 euro ogni martedì e giovedì riceverai in regalo decine di free spin, il cui numero preciso dipenderà dall'importo del tuo deposito. Versando 20 euro otterrai 20 free spin, con 50 euro ne riceverai 55 e con un deposito di 100 euro i free spin in regalo per te saranno 110.
Ogni settimana la promozione vale per una slot differente. I free spin vengono accreditati entro le ore 13:00 del giorno successivo al deposito e da questo momento sono validi per 7 giorni. Come per altri bonus di Mr Green anche questo deve essere giocato 34 volte e le vincite derivanti dovranno essere rigiocate almeno una volta.
MrGreen – offerta di giochi
L'offerta di giochi casinò di Mr Green è molto ricca. Tra le sue proposte il giocatore troverà un'infinità (oltre 150!) di slot machines fornite da quattro aziende diverse: NetEnt (Starburst, Gonzo's Quest), Play'n GO (Aztecidols, Dragon Ship), Capecod (Ulisse, Arsenio Lupin) e NYX (Witch Pickings, Werewolf Wild).
Oltre alle slot abbiamo a disposizione diverse tavole da roulette, blackjack, baccarat e poker (quest' ultimo anche in modalità di video poker).
Pur essendo un casinò online, Mr Green permette al giocatore di sentirsi come in un vero e proprio casinò fisico grazie alla modalità live casinò nella quale sono disponibili due tavoli da blackjack e sette da roulette. L'opzione di live casinò è ultimamente molto richiesta dagli utenti quindi possiamo considerare il fatto di possederla nella propria offerta un importante punto di vantaggio per Mr Green.
Come abbiamo accennato nei paragrafi precedenti, l'offerta di Mr Green non comprende le scommesse sportive quindi possiamo chiudere qui la prima parte della nostra recensione e passare alla seconda che sarà dedicata alle opinioni su aspetti come metodi di pagamento e servizio clienti. Vedremo anche se Mr Green ha preparato per i suoi utenti un'applicazione per dispositivi mobili.
Stai cercando il miglior casinò? confronta offerta MrGreen con offerta LeoVegas
Mr Green è il casinò online più premiato al mondo. Per elencare solo alcuni dei suoi riconoscimenti ricordiamo che l'operatore nel 2017 all'International Gaming Awards si è aggiudicato il titolo di "Online Gaming Operator of the Year", nel 2016 è stato scelto come "Mobile Operator of the Year", negli anni 2015, 2014 e 2013 ha ricevuto il premio per il miglior casinò online dell'anno, ovvero "Online Casino Operator of the Year".
Tale numero di riconoscimento dice già molto sulla qualità dei servizi offerti da Mr Green, ma noi vogliamo entrare nei dettagli e raccontarvi le nostre opinioni su aspetti specifici legati al comfort del giocatore nell'utilizzo del casinò.
MrGreen – modalita di pagemento
Un fattore molto importante che prendiamo in considerazione valutando l'offerta degli operatori sono i metodi di pagamento disponibili. È fondamentale che essi siano veloci, semplici e soprattutto sicuri. Mr Green permette di effettuare depositi attraverso diverse modalità: possiamo scegliere tra le carte di credito/debito più diffuse ovvero Visa e Mastercard, Postepay, servizi come paysafecard o PayPal oppure quelli di e-wallet come Neteller o Skrill. I soldi appariranno sul nostro conto di gioco immediatamente dopo la ricarica il cui valore deve ammontare a minimo 10 euro. L'importo massimo di un singolo deposito può ammontare invece a 1000 euro. Non è possibile effettuare versamenti tramite bonifico bancario.
Per quanto riguarda i prelievi, abbiamo a disposizione gli stessi metodi che nel caso dei depositi. Bisogna ricordare, però, che i soldi potranno essere prelevati solo attraverso lo stesso canale che era stato usato per versare il deposito. Un punto importante è che per effettuare un prelievo bisogna prima aver convalidato il proprio conto di gioco inviando la copia del documento d'identità e il codice fiscale.
Il valore minimo del prelievo è di 20 euro. Solitamente i prelievi vengono elaborati entro 24 ore dalla richiesta. Tra il momento dell'invio del pagamento e quello dell'accredito possono trascorrere fino a 5 giorni lavorativi.
La qualità di un operatore dei giochi d'azzardo si manifesta anche attraverso il modo in cui egli affronta le problematiche del cliente. Qual è la nostra opinione su questo argomento nel caso di Mr Green? Il primo commento da fare è che su Mr Green è molto facile trovare aiuto. Accedendo a qualsiasi pagina del servizio sul bordo destro dello schermo vediamo sempre una piccola linguetta con scritto "HELP". Se la clicchiamo ci verrà mostrata la scheda con i possibili canali d'aiuto. Possiamo provare a risolvere il nostro problema in due modi: cercando le risposte nella sezione FAQ oppure contattando Mr Green attraverso le modalità proposte.
La sezione FAQ, ovvero quella dedicata alle domande e risposte più frequenti, è divisa in cinque categorie. Vi troveremo spiegazioni sulla registrazione, sui depositi e pagamenti, soluzioni ad alcuni problemi tecnici o quelli con il conto e infine informazioni su come è possibile mettersi in contatto con l'operatore.
Per quanto riguarda i metodi di contattare Mr Green, abbiamo solo una opzione: il supporto via mail di cui possiamo usufruire inviando una mail all'indirizzo servizioclienti@mrgreen.com oppure compilando l'apposito modulo. L'assistenza clienti è disponibile 7 giorni su 7, dal lunedì al sabato dalle ore 8:00 alle 20:00 e la domenica dalle ore 08:00 alle 15:00, tuttavia non vengono forniti tempi precisi di attesa alla risposta.
Purtroppo su Mr Green non è disponibile il metodo preferito dai giocatori di contattare un casinò online, ovvero la live chat, né l'assistenza telefonica.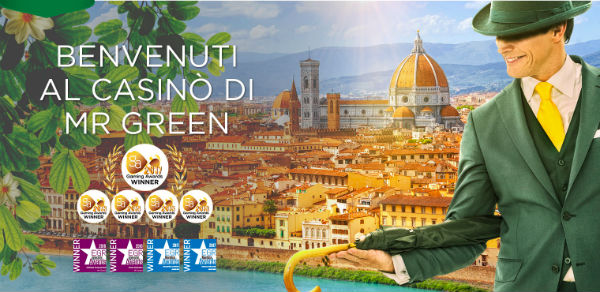 Insomma, qual è la nostra opinione definitiva su Mr Green? Se ci chiederete se vale la pena di aprire un conto di gioco presso questo casinò online vi risponderemo di sì. Ciò che si nota subito appena entrati sul sito dell'operatore è il modo chiaro e intuitivo in cui esso è strutturato. Inoltre il sito funziona molto bene pure tramite dispositivi mobili, nonostante non ci sia un'apposita applicazione. Un punto forte di Mr Green è decisamente anche la sua ricca offerta di giochi e promozioni interessanti. L'aspetto da migliorare potrebbe essere quello legato al servizio clienti, in quanto Mr Green non mette a disposizione dei giocatori un canale di contatto in tempo reale. Tuttavia, bisogna sottolineare che gli addetti all'assistenza clienti sono pronti a rispondere alle mail anche durante il fine settimana, il che non è da tutti.